CipherTrust Cloud Key Broker for Azure is now available on the Thales Data Protection on Demand (DPoD) platform. Key Broker for Azure is designed for Microsoft Azure and Office 365 customers, who to securely generate, upload and manage cryptographic keys for their Azure Key Vaults quickly, securely and affordably. By using DPoD, customers can enjoy peace of mind when using Microsoft's cloud-based services, secure in the knowledge that they are always in control of their keys.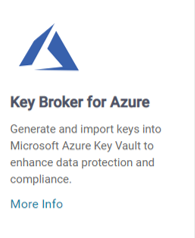 The Key Broker for Azure service provides Bring Your Own Key (BYOK) capabilities which allow Azure customers to bring a key to Microsoft Azure Key Vault for use with Office 365 encryption while maintaining control over that key. This on-demand feature allows them to secure multiple Azure key vault enabled services in minutes, from compute to storage, DevOps to analytics, and to easily revoke access to that key if security, access control or compliance reasons require an immediate change of policy.
The Azure Key Broker is a simple cloud based key management solution that provides a fast to deploy, easy to access and secure key management solution. With no hardware or software to deploy or manage, customers get all the benefits of BYOK but with greatly reduced implementation and management overheads.
This service is just one of many available DPoD options for customers to quickly scale their data protection services using the cloud. The DPoD service is cloud agnostic and can be used to simplify the instantiation and management of Root of Trust, PKI, BYOK, and other services across multi-cloud, hybrid and on-premises deployments. This Key Broker for Azure service joins the currently available Key Broker for Salesforce, and the suite will soon be enhanced by a Key Broker for Google service.
Capabilities for Key Brokering for Azure include:
Subscribe
Provision services
Define security policies
Reports

In addition to DPoD, Thales has a broad range of solutions that help secure Microsoft Azure, including Thales Luna HSM and CipherTrust Cloud Key Manager BYOK solutions.
For more information:
Visit the Thales website
Download a new white paper: Securing Microsoft Office365 and other Azure applications with CipherTrust Cloud Key Broker for Azure White paper
Sign up for a free evaluation now!
For further information, or any questions, please contact the DPoD team: dpondemand@thalesgroup.com