Executive Summary
This memo serves to highlight two important changes to CipherTrust Manager's physical appliance offering to enhance the firmware offered as standard and working around supply chain issues with the product. 
Firmware Update for Physical Appliances
Thales has made the decision to update the default firmware shipping with CipherTrust Manager physical appliances to Version 2.9.1. Thales is a reliable Independent Software Vendor that consistently adds features and functions, addresses technical issues, enhances performance, and remains vigilant in addressing any security vulnerabilities.
Bezel Shortage for CipherTrust Manager  
The COVID-19 pandemic continues to have a significant impact on global supply chains, resulting in shortages of hardware components. As a manufacturer, Thales is not immune to these shortages, and we have been working hard to ensure the continued supply of CipherTrust Manager hardware. 
Due to these supply chain issues, we are experiencing delays in procuring bezels (faceplates). This unfortunately leads to shipping delays that are due in large part to this part shortage. Therefore, it is necessary to adjust the physical appliance bill of materials to stop the bezel shortage from impacting order delivery. 

Example of bezel (faceplate) used to lock the CipherTrust Manager into place.
Part Number Updates
Based on the above issues, Thales is introducing new physical appliance part numbers for ordering. This has resulted in updating the part number suffix from "-001" to "-002" – the first 9 digits remain the same. In addition, an updated part number description to reflect the firmware version and lack of bezel being included in the appliance has been completed.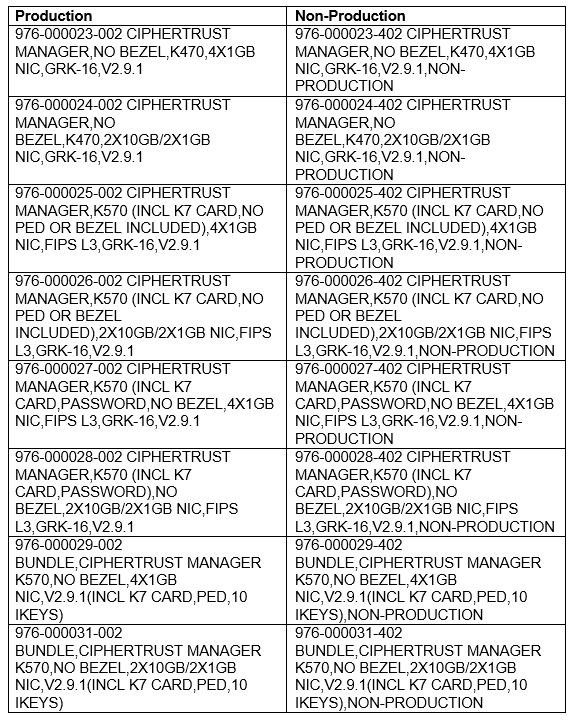 Should a customer need a bezel/faceplate, you will now order the bezel part number separately.  
976-000100-001 FRU,LOCKING BEZEL,THALES,CIPHERTRUST K470 

 

976-000101-001 FRU,LOCKING BEZEL,THALES,CIPHERTRUST K570 

 
Impact to Customers 
Thales realizes that change in any environment is difficult, but we believe this update provides significant benefit to our existing customers to work around supply chain issues as well as provide updates to the portfolio.  
This announcement does NOT require a new appliance purchase. Customers are still able to upgrade existing k470 and k570 appliances to 2.9.1 and later releases with a current Maintenance and Support contract.

 

The last Time Buy for 001 appliances will be

March 31, 2023

. All orders from April 1, 2023, onwards will be fulfilled with the 002 part numbers listed above.

 
If you order additional appliances between Nov 1, 2022, and March 31, 2023, we will make our best efforts to fulfill the current 001 part numbers but delays may be experienced as a result of the bezel supply chain issue. If you are planning to upgrade to 2.9.1 or later in the next 6 months, please work with our Sales or Channel partner to update your prospective order to the 002 part number. 

 
Please do not hesitate to contact your account manager if you need further information or have any questions.